Practical. Efficient. Experienced.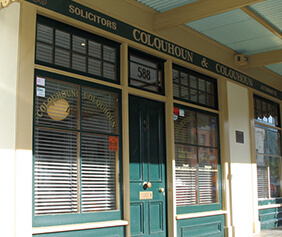 At Colquhoun & Colquhoun Solicitors we have a history of more than fifty years of service to our clients in the areas of business law, wills and estates, family law, conveyancing and litigation.
Our values in action include openness and acting in good faith in our dealings with clients, the courts and colleagues.
We pride ourselves on being approachable, willing to listen and providing practical, resourceful legal services which achieve realistic outcomes in a cost effective manner.
Thank you for the confirmation letter and a big thank you to yourself and Paul for all your help with this matter. The process was made much easier with your expert guidance.
Tom M (surname withheld)
Getting the sale of business deal done was a huge coup for us and this is in no short part because of the work you put in. Your expertise, intelligent approach to communication and overall good humour has been a pleasure to work with.
Brent M (surname withheld)
Thanks Paul, for your work. It's been great having someone we can trust.
Anthony M (surname withheld)
I really appreciate the time you took to deal with the queries raised.  I also sincerely thank you and all of your team in your office for your kind and professional dealings with all of my aunt's affairs and for fighting her corner in dealing with Strata issues.  The result has been fantastic and it is incredible that the payment came through so quickly. It is a great relief for us to know that she is being so well looked after. 
Regina O (surname withheld)
Thanks Paul, it has meant a lot to have your advice these last few months. Really appreciate it!
Rebecca H (surname withheld)